BIKER'S TOUR
08 nights/ 09 days.
ROUTE MAP FOR BIKERS (In Green)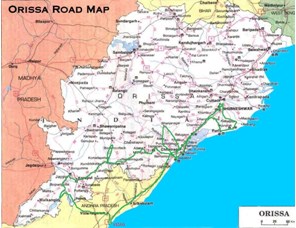 We provide India made Royal Enfield 350 CC Classics for entire tour.
Day 1:
Fulday Bhubaneswar. Arrive Bhubaneswar , Assistance & familiarize with your motor bikes.
Later have a heritage ride to visit the city of temples in Bhubaneswar. Hot lunch at the village followed
by visit to Yogini temple and Ashokan rock edicts at Dhauli. O/N at hotel in Bhubaneswar.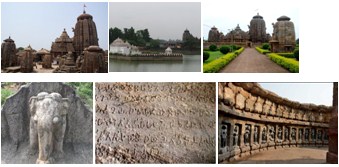 Day 2 :(150 Kms )
After breakfast drive to Jagannatha Temple Puri enrout visiting Barahi temple,
Gangeswari temple and Sun temple at Konark. Overnight at hotel in Puri.

Day 3:(190 Kms )
After breakfast drive to Gopalpur through Chilka lake Overnight at hotel in Gopalpur.

Day 4: (180 kms)
Gopalpur – Bhetnoi – Gopalpur. After breakfast drive to Bhetnoi through
odishan villages and temples and back to Gopalpur on sea. O/N at Hotel.

Day 5: ( 260 kms)
Gopalpur- Rayagada , Drive to Rayagada through Eastern ghats, enjoy the beauty
of landscape and visit some villages of Kumuti, Saora & Kondh. Overnight at Hotel in Rayagada.

Day 6: 210 kms:
Rayagada – Chatikona- Jeypore:-Morning drive to Chatikona Market to see
Dongria Kondh tribe, different from others with their distinct hair dresses & jewelery. After
lunch drive to Jeypore, en route visiting Mali and Desia Kondh tribal villages.Overnight in
Jeypore. ( Must be on Wednesday)

Day 7:180 kms :
Jeypore – Onukudeli- Araku:- After breakfast drive to Onukudali to visit the
most primitive Bondo tribe. After lunch drive to Araku valley. Overnight at Hotel .(Must be on Thursday)

Day 8: 210 kms:
Araku – Shrikakulam:- After breakfast drive to Shrikakulam.Overnight at
Hotel Blue Earth / Hotel Grand.

Day  9: 300 kms:
Shrikakulam –Bhubaneswar .

TOUR ENDS