KANHA BANDHAVGARH TOUR
04 Nights / 05 Days
Kanha national park (2N) – Bandhavgarh (2N)
Tour focus is to cover 02 most popular tiger reserves of India known for tigers and wildlife photography.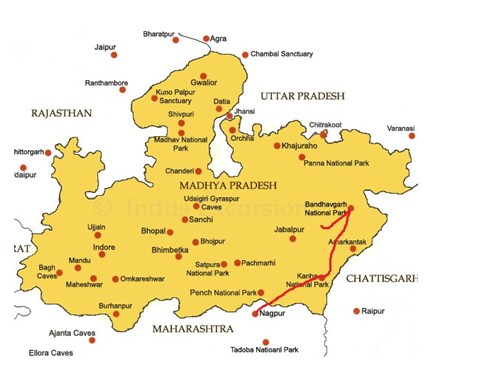 DAY-1
Arrive at Jabalpur/ airport and get transferred to Kanha. On reaching Kanha national park, relax at resort. If time permits, you may attend evening jungle safari or spend some time at library or have small walk around resort. Overnight at resort in Kanha national park.
DAY-2
Attend morning & evening safari drive. Here at Kanha national park, scenic beauty of landscapes and sal tree forest is awesome. Large meadows with grazing spotted deer herds and hard-ground barasingha are the common scenes during jungle safari. It is the only park where Barasingha (Hard-ground) species is left in world and are still under special conservation project. Jungle safaris of Kanha park is better than Bandhavgarh as here animal herds size is large and their visibility remains evenly distributed in jungle. Those who are interested in complete wildlife, this park is best suitable for them. Overnight at resort in Kanha national park.

DAY-3
In this day drive to Bandhavgarh national park, located at a distance of 260kms. This drive will be 6-7hrs long passing through villages, rocky out crops, tribal villages, agricultural fields, cattle herds on road testing your patience etc. While driving to Bandhavgarh, you have chance to visit en-route Fossil park showcasing 6.5 million plant fossils. By evening or after sunset, you will reach Bandhavgarh resort. Overnight at resort in Bandhavgarh national park.

DAY-4
Do morning safari at Bandhavgarh tiger reserve. Here park is divided into safari zones and you do safari in one safari zone . In compare to Kanha national park, Bandhavgarh is small in size and have more hilly terrains. Here meadows are less and smaller in size, in comparison to Kanha. Here chances of tiger sighting is slightly better but still dependent on luck. Here jungle safaris are more focused on tigers and due to hilly terrains, visibility of other wild animals is not so frequent as in Kanha. Due to better tiger density, possibility to spot different tigers is more in Bandhavgarh. Overnight at resort in Bandhavgarh.

DAY-5
In this day drive to Jabalpur railway station 200 kms 4 hrs drive for onward journey.
Tour Ends