Operating Area   Enclosed in red.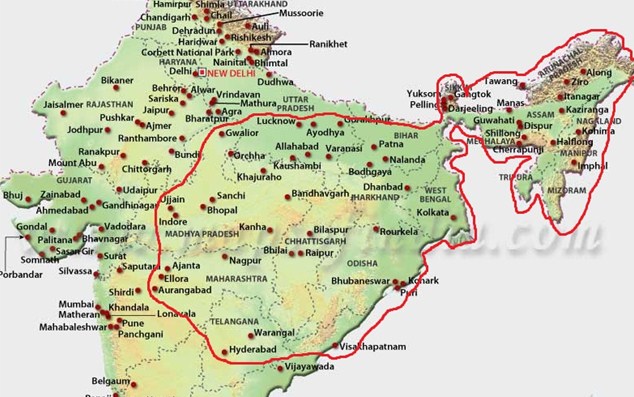 ABOUT TROPICAL VACATIONS
Tropical Vacations (India) private limited is a travel and tour management company that guides through the states of Odisha, Kolkata, North East, Vizag, Chhattisgarh and Central India. The sole focus of the company lies in providing impeccable travel experience to the travelers. Our travel professionals guide through the beauty and significance of the locations and ensure the guests visit to be extremely memorable.
Tropical Vacations offers you the advantage that consolidates the tremendous skills of our experts. From Odisha, we have Mr. Saroj Kumar Samal, a travel and tourism proficient with 20 years of matchless experience in the circuit of Odisha-Chhattisgarh alongside Kolkata, Northeast and Central India. Besides that, with an extraordinary awareness of tribal societies and their tradition culture.  With proficiency of language spoken Goverment approved Guides/Tourescorts
The entire group endeavors for your stay and travel to be enormously successful. The travel professionals would help in learning more about the wonderful locations, remember the history, mingle with the local people, know about them and their culture, traditions and more. It creates affection from you towards the populace that is quite unlike in this field. Tropical Vacations provides assistance in different parts of tourism like travel consultancy, inbound and residential bundles, Tour escorts-Government sanction proficient aides, Transports administrations, Passport, Visa transformation and Ticketing administrations, Hotel reservations, Events and Theme party courses of action, and so on for Odisha, Chhattisgarh, Central India, Kolkata, Northeastern states and Vizag as a pan-Indian service provider.
The itineraries will cover these predominant locales of Bhubaneswar, Puri and Konark in Odisha to the lesser-known yet glorious places of Bhoramdeo in Chhattisgarh, from the peaceful lakes and shorelines of Odisha to the lakes, mountains and monasteries of North east India to the thick wildernesses of Central India, from the differing scope of tribal societies to the curious castles of recent august conditions of these areas. We assure an exciting and ecstatic trip planning on your preferences. Give us an opportunity to reveal the exuberant life and being of Incredible India!
Our Role
*On arrival welcome with Garlands by Our representative.
*Well educated licensed guide services.
*All the transport within 3 years of manufacturing, Well equipped with First Aid, Courteous drivers and Ice box.
*Accommodation as per availability ( Hotels, Tents & Royal Home Stay).
*Government permits as and when required.
*Guest's feedback communicated in time.
*24 X 7 hotline facility.
*Point to point information flow.
Our Credibility
*Established in 2010 to cater wide range of travel services to international and domestic tourists with convenient and hassle free tours.
*Though We are only 8 years old we have experience of 24years in trade behind us.
*Presently we work for 8 corporate houses in Odisha and more than 55 National tour operators as our principal Agent.
*Our fleet consist of – 6 Inovas, 2 Toyota Cresta, 2 Etios, 2 Tempo traveler, 2 Swift Dezires and 1 Mini Coach .
* We have our associate offices in Kolkata, Bodhagaya, Guwahati ,Varanasi, Raipur & Vizag for smooth operation in designated areas.
Operation Team
Saroj – + 91 – 8895274174 ; 9937344156 Bibek – +91 – 8763354801; 9439913283 Sandeep – +91 – 9937874216; 9040020150 Sarmista- +91 – 8763294188

Prajna – + 91 – 9090011139
Assistance team –    Pradeep. With 15 nos of Chauffer's .